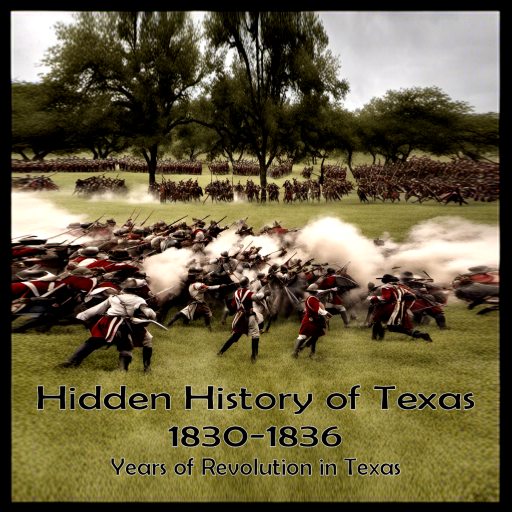 Take a trip back in time and listen to what really happened in Texas in the years 1830-1836. The 13 chapters cover the years that not only led up to the revolution, but also some of the more unnoticed events that took place.
These are not your stern lectures we all endured in school, these are told in a relaxed and informative way by your host Hank Wilson, each chapter of the book is delivered in a way that is easy to follow and makes logical sense.
All chapters are based on Hank's successful podcast The Hidden History of Texas are a part of his collection of Texas History.
Tracks
Chapter 1 – 1830 – Slavery becomes an issue
Chapter 2 – Law of 1830 – Anahuac Disturbances7
Chapter 3 – Conventions of 1832 – 1833
Chapter 4 –Santa Anna Takes Over in Mexico
Chapter 5 – The Battle of Gonzales and the Siege of Bexar
Chapter 6 – Matamoros Expedition – Texas Leaders Confused
Chapter 7 – Two Declarations of Independence
Chapter 8 – Battle of Goliad (La Bahia)
Chapter 9 – The Siege of Bexar
Chapter 10 – Los Tejanos
Chapter 11 – The Battle of the Alamo
Chapter 12 – The Goliad Massacre
Chapter 13 – The Runaway Scrape – Battle of San Jacinto
Select Your Favorite Store